Refiner Mill
In rubber industry, while processing of rubber, there will always be some scrap, which is usually called "waste" to meet breakeven point & for success of every industry, we need to minimize our wastage which is really possible through "SLACH HYDRATECS TWO ROLL REFINER MILLS". Available in phosphorus bronze or anti friction roller bearings & bull gear universal drive. Ideal for breaking vulcanized compounds & washing natural rubber. These models are designed & developed according to customer's specific requirement.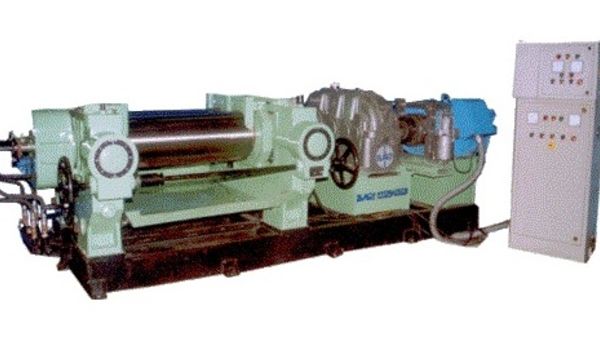 Salient Features:
30% - 40% more refining than mixing mills
Regenerates the tyre and footwear waste
Single piece robust base frame construction. Needs no foundation
Fast, economical and labour saving
High savings on waste compound reused
Various safety options
Option of Bull gear and Uni-Dirve Versions.
SIZE(inch.)
OD (mm)
LENGTH (mm)
FRONT ROLL
REAR ROLL
CAPACITY (kg/hr)
OPERATION
DRIVE MOTOR (hp)
SHDX-K3
16"x12"x30"
406.4/304.8
762
18
28
70-75
Contenuous
40
SHDX-K3
18"x14"x36"
487.2/355.6
914.4
17
24
110-140
Contenuous
60/75
SHDX-K3
22"x18"x30"
558.8/457.2
762
15
20
180-225
Contenuous
110/125
SHDX-K3
24"x20"x36"
609.6/533.4
914.4
13.5
19
250-350
Contenuous
150
SHDX-K3
28"x24"x48"
711.2/609.6
1219.2
11.5
16
375-500
Contenuous
200/250